Chicken BLT Pizza - GF
Thursday, January 08, 2015
Here it is the recipe that goes with the amazing yuca pizza crust that was posted last week. Say "Hello" to Chicken BLT Pizza! This is like the pizza of ultimate pizzas! I seriously don't think I've ever put so much effort into making a pizza. However, the results where a-maz-ing. The whole idea behind this pizza was to make a copy cat of California Pizza's 'California Club' pizza. So, I went on their website and thank goodness for me they had all the ingredients listed of what was on the pizza so from there it was pretty easy. I do have to say though that their rendition turns out much more aesthetically pleasing. Waaaaaaah! :[ Now that that's out of my system let me state that it is the taste that matters!
I also don't think that I've ever written the word pizza so many times. I'm starting to go cross-eyed just looking at it. It's starting to read as 'pizazz' to me! Just look at it and you'll start wanting to say it that way too. "I'm having 'pizazz' tonight!" Which then reminds me of Donkey on Shrek saying "I'm making waffles!" Then of course I have to google it just to make sure I've got the quote right otherwise that would be embarrassing! And look at what I found!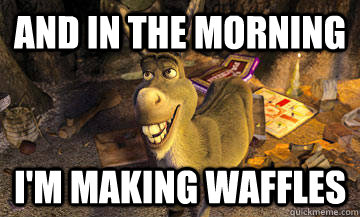 Now that it is completely obvious that I'm completely ADHD tonight that is the end of your sneak peak into my crazy brain! I will just leave you to the recipe now.
INGREDIENTS:
1 chicken breast
1 pkg uncured bacon
1 pkg shredded mozzarella (small)
1 avocado
1 tomato
2 c arugula
2 c romaine
1/2 c basil
2 tbsp Ranch Dressing (organic & gluten-free if you're like me ;])
White Pizza Sauce:
1 tsp dried basil
1 tsp dried parsley
1 tsp dried oregano
1 egg white
1 tsp garlic powder
1/2 tsp salt
1/2 tsp pepper
METHOD:
Pre-heat oven to 375 degrees F.
If you are making this to go on the yuca crust, before you even start the yuca crust take the chicken breast, place it in a pot of water so that it is fully covered and then some, and then boil it for about 15 minutes. Or until cooked thoroughly.
At the same time cook your bacon on the stove top or in the oven. Then move on to make your pizza crust and continue with everything else once that is in the oven.
Thinly slice your avocado and tomato. Set aside.
Roughly chop the arugula, romaine, and basil and then gently toss together. The 2 cups should be two lose, fluffy, cups of lettuce not smashed in. Set aside.
In a small bowl take egg white and all seasonings and whisk lightly together.
At this time your pizza crust should be prepped and ready and the chicken and bacon should be done or close to done.
Top the pizza crust with the white pizza sauce using a brush.
The spread package of mozzarella cheese around.
Take the chicken and pull apart with two forks. It should shred easily like string cheese.
Place the pulled chicken on the pizza along with the thinly slice tomatoes.
Place pizza in the oven until cheese is melted. This should only take about 5 - 10 minutes.
Once that is done, remove from oven, top with arugula, romaine, basil, avocado, and bacon.
Pour Ranch Dressing over the top. A great substitute for a more paleo pizza would be to use homemade mayo and mix with a mustered of choosing to flavor it.
EnJoY!!